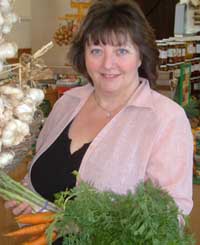 ENTER THE WORLD OF HOME COOKING BY ELIZABETH
Bringing Food and People Together
Well as we reach the end of 2020, a very different year for so many I reach 35th years doing what I love. Catering is my passion and my life it have given me great satisfaction knowing every event is special. This year has been very different as I have remodeled the business to be able to still serve my clients, what ever government guide lines permit. We have also this year, when permitted opened a Pop Up Sunday Lunch, Licensed Restaurant within The Old Barn Hall in Great Bookham, this has been eagerly welcomed by local. Our events will be arranged – it is also a Covid Secure Venue for Wakes, Please note we always update our website if any rules changes are made by the government.
I can bespoke every menu, often producing recipes personally for my clients.  I am the main influence of all my catering events and will be seen back of house in my apron!  I am supported by my husband Jon and daughters, who all have their own roles within the business. My daughters work closely with me and have become a very important part of the business taking the next generation to a different level.
It seems a long time ago, starting just in my kitchen at home with my three small children, producing and selling my products at local indoor craft markets. It was during this time in my life when I created my signature dishes, which I am still producing today; homemade pies, quiches and numerous types of cakes.
Over the past years, I have always kept food ideas and styles up to date, my basic technique of home style cooking, or as a great friend of mine always says "Cooking from the Heart", using the best possible ingredients, has always been the key to my success. I am also mindful of and support local produce and businesses. I am very fortunate to live in Great Bookham in Surrey where there is a wealth of great suppliers, with excellent butchers, a fish monger, a bakery and a greengrocer all of which are family businesses who care.
Throughout the years, my personal catering service has always thrived and many clients are still using our services since 1986.  It is the core of my business and my great passion.  I have many testimonials from past clients who have appreciated and experienced those special touches of mine and those of my staff.  Whatever the size all events are treated the same.  The menus are only an idea to give a price structure when you are browsing through them.
I eagerly write my own recipes and you will find many of my recipes on the website, I have also written for local magazines, occasionally broadcast on local radio and apparently pop up on Cbeebies in a children's programme, as a puzzled cook producing bizarre things from the kitchen! Something I did a few years ago! I am just about to embark on another exciting adventure and will keep you posted!
Our beautiful unique Catering Showroom in Great Bookham welcomes clients to visit and discuss their personal requirements, at the same time viewing our range of china, cutlery and glassware etc.
We are fully licensed caterers and we can provide pay bar services or party packages. We include Trained Staff & Glassware. We can sell and provide wine even if our catering services are not needed.
I look forward to speaking to you soon. This can be done by Appointment, Zoom or simply over the phone
Elizabeth Treliving
Office 01372 453206 Mobile 07712760175 or email me ejtreliving@aol.com