A la Carte Knife and Fork Buffet
The format of these menus is so that you can produce a price which includes china and cutlery based on a minimum of 30 guests. For smaller numbers we will give an individual quotation, VAT and management services. The only extra cost would be for service staff, linen & glasses if required. These menus give great ideas for weddings or special celebrations.
Choice of two main courses £26.50 per head
Choice of three main courses £27.50 per head
Choice of four main courses £28.50 per head
Prices for 10 and below will be quoted for separately
If you only wish to cater for a minimum amount of vegetarians, the vegetarian option does not need to be included in your main choices.
There is a £3.50 per head surcharge if additional heating equipment is required, if it is a hot food buffet there is also a staff fee of £120
Up to 15 Guests £3.50 surcharge up to 35 Guests £2.50 surcharge
This buffet also includes:-
Hot new potatoes
A choice of four different salads
A choice of three different desserts
Bread & butter selection
Appropriate sauces & dressings
Tea & coffee
Cold Selection
Whole ham on the bone, cold roast turkey, cold roast chicken, whole poached salmon, cold roast topside of beef, cold roast fillet of beef (£3.00 surcharge), Coronation chicken, lemon chicken, tarragon chicken, Mediterranean chicken, jubilee turkey, seafood & smoked salmon platter, smoked salmon, avocado & prawn lorac, tail on tiger prawns, beef in a Dijon mayonnaise, continental meat platter.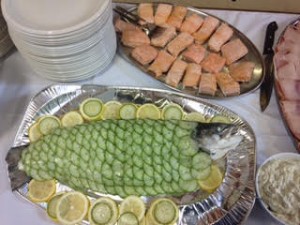 Quiche & Tart Selection
Brie & watercress, roasted vegetable, Stilton & walnut, asparagus, cheese tomato & basil, roasted whole baby onion & four cheeses, courgette & tomato, salmon & broccoli, salmon & dill, chicken & leek, wild mushroom.
Vegetarian Dishes (Hot & Cold)
Refer to quiche section, vegetable chilli, chestnut & parsnip bake, asparagus & mushroom pasta, spicy vegetable pie, vegetable moussaka, leek & potato au gratin,
mushroom & spinach lasagne, Quorn korma, spinach & cream cheese roulade, vegetable hot pot, roasted vegetable paella, country vegetable pie with a Parmesan crust.
Hot selection
Normandy chicken, tarragon chicken, chicken provencal, chicken Sorrento, chicken tikka masala, chicken Rioja.
Pork in orange sauce, pork provencal, country style pork with herby dumplings.
Beef Burgundy, beef cobbler, beef en Daube, beef Bourguignon, beef Stroganoff, strips of rump steak cooked in oriental spices.
Roasted Italian leg of lamb, minted lamb cutlets, leek & lamb in red wine, lamb & apricot tagine, lamb moussaka. Many of these dishes can be converted into a similar vegetarian, gluten free or vegan option).
Home Cooked Pies- Our Speciality
Beef mushroom & ale , chicken ham & leek, chicken & apricot, chicken & asparagus, lamb & apricot, lamb & leek, salmon & broccoli, luxury fish pie (using fish of your own choice).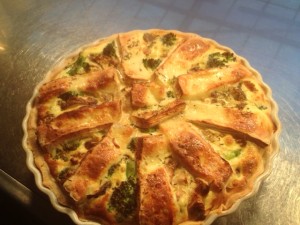 Salad Selection
Traditional, Greek tomato & cucumber, beetroot & onion, spinach with croutons, Waldorf, traditional potato, special potato, Spanish rice, special pasta, bean couscous, fruity couscous, coleslaw, red slaw, oriental, Florida, crispy vegetable, Nicoise, Caesar, beetroot & onion.
Desserts
Fresh fruit salad, tropical fruit salad, choice of own berries & cream, pavlova selection, home made gateaux own choice of fillings & toppings. Cheese cake selection, tart au citron, chocolate marquises, white chocolate & raspberry roulade, tiramisu, banoffee pie, apple torte, apricot torte, homemade fruit pie of own choice. Fruit crumbles, strawberry meringue heaven, chocolate or toffee profiteroles, bread & butter pudding, fruit tarts, summer pudding, old fashioned trifle, chocolate trifle, Italian tart, pear frangipane and cherry frangipane.  All desserts served with cream, custard or crème Anglaise depending on the dessert chosen.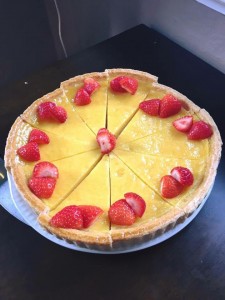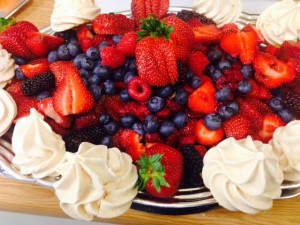 British & continental cheese selection can be organised as an additional dessert from £3.95 per head extra, or could be one of the dessert options.
Any particular favourite recipes or dishes can be accommodated and we also cater for all dietary needs. Just specify on booking.
OTHER SERVICES AVAILABLE
We can provide other services
China & cutlery Hire
Linen hire
Staff services
We can also arrange special menus for special events
Menu for over 150 can be quoted for separately