Enjoy Our Contemporary Bowl Food Parties
Hot & Cold Bowl Food Parties
These parties are more relaxed and give a delightful selection of tastes. It works well for parties where there space is restricted, however still having excellent quality and choice. Exceptionally popular for 18th,21st,30th and other milestone Parties plus Corporate Events.  A Great Option for hosts who would like more than just a Canape Party. Everyone gets to try all three dishes or continue to have more of their orginal choice.
There is One, Two or Three Course Options
                                     Prices for 10 and below will be quoted for separately for all courses
One course option (Choice of Three Main Courses and the sides)
£22.50 under 15 Guests
Up to 35 Guests £20.50
Over 35 Guests £18.50
Two course option (Main Course options plus a canapes selection 6 different canapes from our canape menu or Three Different Desserts or canape style dessert, dessert range can be found on our A La Carte Fork Buffet Menu)
£26.50 under 15
Up to 35 Guests £23.50
Over 35 Guests £21.50
Three course option (Canapes Main & Dessert)
£30.00 under 15 Guests
Up to 35 Guests £27.50
Over 35 Guests £25.50
Over 75 & 100 Guests quoted for separately
(We also include China, Cutlery & Rustic Bread)
Hot
Normandy Chicken   –  Tarragon Chicken – Chicken Tikka Marsala – Thai Green Chicken Curry
Chicken Rioja – Creamy Chicken & Asparagus- Chicken & Apricot Asian Style
Beef Stroganoff – Oriental Beef – Beef Bourguignon -Steak & Ale with a Pastry Hat – Beef Goulash
Gammon & Mushroom with a Leek Sauce
Lamb Tagine- Lamb & Apricot -Lamb Moussaka
Salmon & Watercress Sauce – Cod & Chorizo
Vegetarian
Vegetable Korma – Vegetable Tagine – Spiced Lentil with vegetables – Vegetable Lasagne
Roasted Vegetable Pasta Bake – Vegetable Chilli – Spinach & Mushroom Stroganoff
(Most of the dishes can be Gluten free and many dishes made as vegan)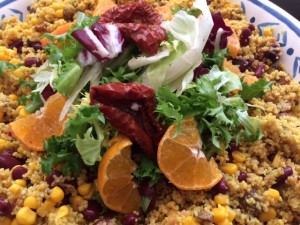 Cold
Coronation Chicken – Lemon Chicken – Lemon Grass & Lime Chicken
Beef with our Crème Fraiche & Horseradish dressing
Prawns Smoked Salmon & Avocado in Rose Marie Sauce
Marinated Feta & Olives with Tomato & Cucumber Salad (V)
Spinach & Mushroom Sough Dough Croutons topped with Goats Cheese (V)
Salmon & Tuna Nicoise Salad
Potato & Smoked Ham with Mayonnaise
All Bowl Food is served with a Choice of Three side  Options
Fragrant Rice – Roasted Vegetable Cous Cous – Moroccan Style Cous Cous – Crushed Herby Potatoes Pasta – Mixed leaves finely chopped – Tomato Salad – Cheese Mash – Mixed Salad – Indian Selection including Nan Bread & Chutney – Buttered Taglitelle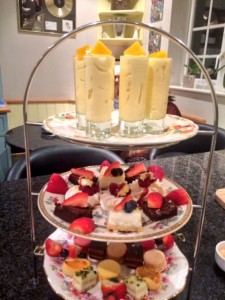 Please contact me to arrange your Bowl Food Party and for other menu choices.
Elizabeth Treliving
Office 01372 453206 Mobile 07712760175 or email me ejtreliving@aol.com