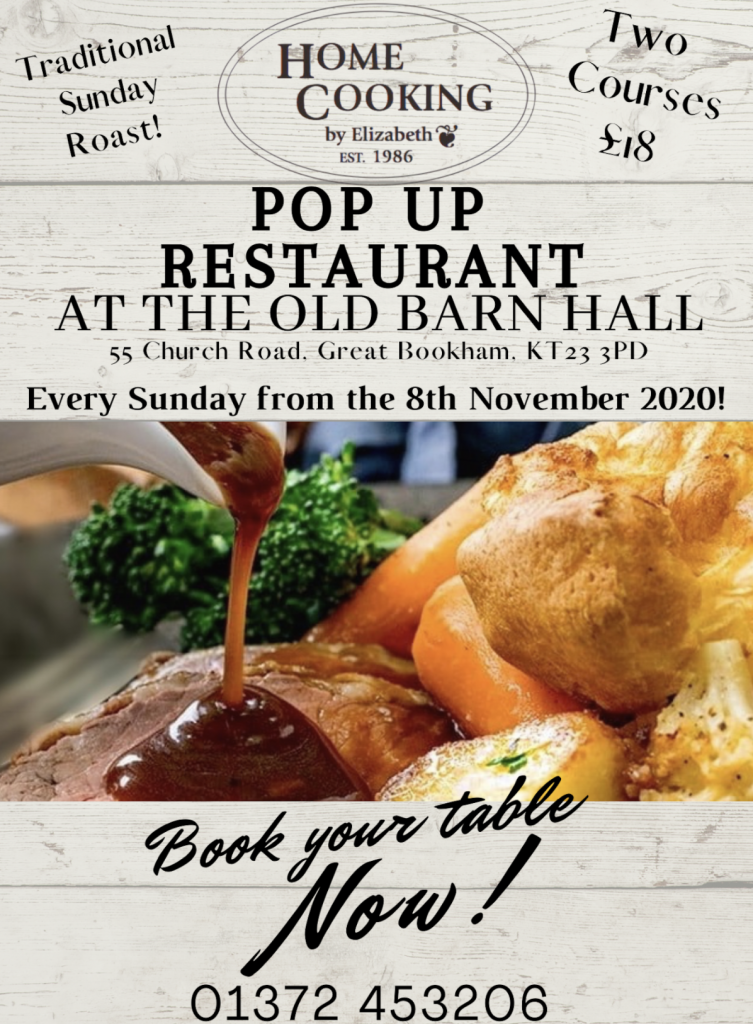 Starters 
Duck Liver Parfait
With Chutney & Artisan Bread
Roasted Vegetable Bisque
With Garlic Croutons & Artisan Bread
Melon Parma Ham & Mango
With a Balsamic Glaze
Mains
English Mature Rump of Beef
With a Large Yorkshire Pudding & Horseradish Sauce
Roasted Breast of Turkey
With a Chipolata Sausage wrapped in Bacon, Stuffing & Cranberry Sauce
Chicken & Asparagus Pie*
With a Creamy White Sauce
Roasted Vegetable Wellington
With a Red Wine Jus
All Mains Include Roasted Potatoes, Cauliflower Cheese-Milk, Yorkshire Pudding-Wheat. Roasted Vegetable Wellington-Wheat & Egg. Gravy-Soya. Horseradish-Milk
Desserts
Apple & Blueberry Crumble
With Cream or Custard
Tiramisu Trifle
With Cream
Lemon Tart
With Double Cream & Berry Compote
English Cheese Plate
English Cheddar, Cornish Camembert, Norbury Blue – Chutney – Biscuits & Grapes
Please note the following Allergens
Cauliflower Cheese – Milk
Yorkshire Pudding – Wheat
Roasted Vegetable Wellington – Wheat & Egg. Soya. Horseradish-milk. 
COVID-19 Safety
All customers will have a Temperature Check on arrival.
A record will be kept for each table booked.
Customers are required to wear masks at all times, except whilst sitting at the table.
We are able to accept Card Payments.
Staff are fully trained for Covid-19 requirements.
Download PDF Menu
We are now Stockist of Denbies Wines, a selection of Wine will be sold by the glass from £4.00 (187ml/175ml sizes)
WE ARE LICENSED TO SELL ALCOHOL AND HAVE A GREAT RANGE OF SOFT DRINKS
The Old Barn Hall
55 Church Road
Great Bookham
KT23 3PD
All bookings cancelled under 48 hours will be charged a £10 cancellation fee per person, unless Home Cooking By Elizabeth cancels due of Covid-19 restrictions.
01372 453206
www.homecookingdirect.co.uk