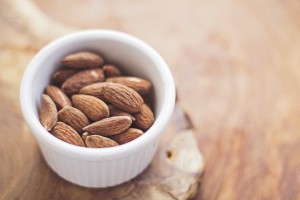 5OOg Duck Breast cut into strips
2 slices of shredded root ginger
1 teaspoon salt
3 tablespoons oil
2 spring onions cut into 1cm pieces
1 teaspoon sugar
4Oml soy sauce
5 tablespoons toasted almonds
2 teaspoons cornflour
5Oml chicken or vegetable stock
3Oml dry sherry or wine
Method
Rub the duck with the ginger, salt and 1 tablespoon of the oil and marinade for 3O minutes.
Heat the remaining oil in the pan over a high heat, then add duck and spring onions stir fry for 2 minutes, add sugar and soy sauce and fry for 3O seconds add almonds and stir fry for a further minute, dissolve the cornflower with the sherry and stock and add to the pan, stirring until the sauce thickens, and simmer for 3O seconds the serve.
This would go well with braised fennel and some simple egg fried rice.