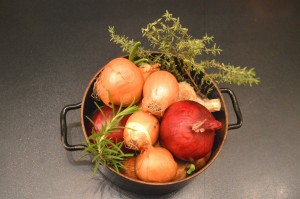 This dish I would say is almost fool proof and is one of my families favourite dishes, it is one of the dishes I can get away when I am very busy, so I feel inexperienced cooks will have great success with it.
Serves 4/6
Ingredients
A large leg of lamb
Some fresh rosemary sprigs
2 cloves of crushed garlic
750ml of beef stock
250ml of red wine
2 tablespoons of tomato puree
I large onion roughly chopped
2 large carrots peeled and roughly chopped
1 small swede or a large sweet potato peeled and roughly cut into chunks
200g of tinned kidney beans drained and rinsed
4 medium sized tomatoes cut into 6 segments
Take the lamb and cut some holes in the skin and tuck in some sprigs of rosemary. Then place all the vegetables around the lamb.
In a large jug mix together stock, wine, garlic puree and tomato puree, then pour all this over the lamb and vegetables, place a casserole lid on top.
Place the lamb in a medium oven for 2 hours, then turn the heat down to a slow oven and leave it for another 2 hours, occasionally basting the meat.
When it is cooked and it is really tender, remove the lamb from the casserole and thicken the remaining liquid, with cornflour if you are confident, if not use some beef gravy granules!
Serve the meat either with rice, baby new potatoes or a nice big jacket potato. I would also serve this with some cooked broccoli.