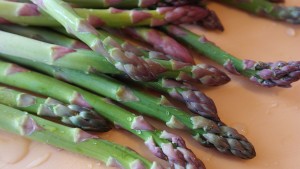 May is asparagus season in the UK , it is a short season so it is best not to miss out, personally having asparagus as a simple side dish is best for me,perhaps just tossed with butter and sprinkled with parmesan cheese (fresh is best)
Here is a easy recipe
Ingredients
400g short crust pastry,
10g butter
4 eggs plus 1 yolk
1 shallot, finely chopped
400ml crème fraîche
salt and fresh ground black pepper
2 tbsp parsley chopped (optional)
100g Gruyère, grated
400g Asparagus blanched and cooled
Line your flan dishwith pastry, then mix all the ingredients (except aspargus) together and pour into oven proof dish.
Decoratively add the aspargus spears.
Place in a medium oven for 45/50 minutes until set. Serve with a simple salad.
Serves 6 as a meal 10 in a buffet