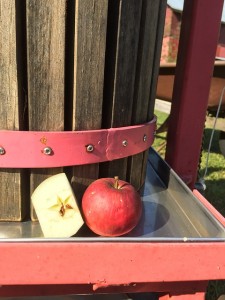 4 Chicken breasts diced
2 tablespoons of oil
1 chopped onion
1 clove of garlic crushed
150g of sliced and cored and peeled cooking apple
Salt and Pepper
200ml of cider
100ml of chicken stock
1 bay leaf
2 teaspoons of wine vinegar
1 medium sized cooking apple with skin on sliced into rings
A little cornflour to thicken
Heat frying pan until chicken is brown
Add all the other ingredients to the pan, except for the corn flour and extra apple rings. Warm all the ingredients gently together. Place in a moderate oven for half and hour, then thicken a little and then place apple rings on top of the chicken. Put it all back in the oven for another 30 to 40 minutes, until the chicken is cooked and tender.