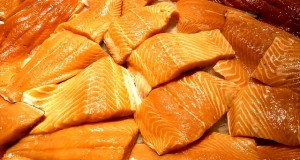 This is a great recipe to freeze.
Ingredients
4 Pieces of fillet of salmon
Butter
1 Bay leaf
3 Teaspoons of lemon Juice
salt and pepper
1 large ripe avocado
2 teaspoons of lemon juice
4 tablespoons of fromage frais
2 spring onions
1 teaspoon of fresh tarragon
Place salmon fillets onto some buttered foil season, pour over lemon juice. Seal foil like a parcel, place in a medium oven and bake for 20 minutes.
To make sauce mash up the avocado with the lemon juice and fromage frais, mix in the spring onions and tarragon and beat until smooth.
Let the salmon cool and serve on the side.