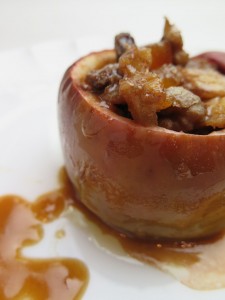 4 even sized apples
150g of mixed fruits which have been soaked overnight with a cup of apple juice or sweet white wine. I also mixed 2 teaspoons of allspice with this.
50g of brown or granulated sugar.
Wash and core the apples. Spoon the dried fruit mixtures inside the apples, Drain off the liquid and randomly pour this over the apples. Sprinkle with the sugar. Place in a moderate oven and bake for 30/40 minutes. By this time they should be soft. Serve with custard or clotted cream is delicious.